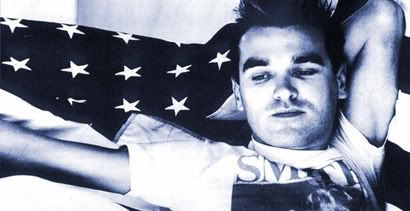 sonst bin ich ja nicht so der fan, der hier über und über rapidsharelinks postet, aber heute scheint ja die sonne (des weiteren ich hab ne mandelentzündung und sollte eigentlich mehr für meine hausarbeit tun) deshalb gibt es das live-bootleg vom
morrissey
-konzert in tel aviv am neunundzwanzigsten siebten. seit gefühlten zwanzig jahren sollte das konzert nun stattfinden, diesmal hat es geklappt, obwohl es auch diverse und
heftige kritik
an diesem vorhaben gab, da es der Palestinian Campaign for the Academic and Cultural Boycott of Israel nach gegen morrissey's eigene "anti-racists"-attitüde verstößt, die sich ungefähr so liest:
"I abhor racism and oppression or cruelty of any kind and will not let this pass without being absolutely clear and emphatic with regard to what my position is. Racism is beyond common sense and I believe it has no place in our"
. der erklärung nach verschweigt/verleugnet/negiert morrissey damit seine eigenen ideale und somit auch die kriegsverbrechen der israelis oder die diskriminierung des palästinensischen volkes. eine reaktion morrissey's darauf ist mir bis jetzt noch nicht bekannt.
download:
Morrissey - Live in Isreal 29.07.2008
video: morrissey announces an upcoming show in israel